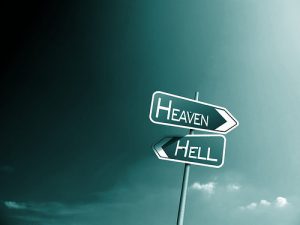 Here is an article on me from 2009.  View Magazine.
Doug Hill's local infamy was perhaps confirmed, for better or for worse, with his band Radar Hate.  The band lay on the periphery of the local punk scene with Hill adopting the Doug Hell moniker, alongside band mates with names like Negator, Badge and Sparkles.  Over four years, with one collection of songs, " The Stress That Gives Men Wings " , Radar Hate probably made their biggest splash at a show they weren't even playing.
Hell's band were vehement about joining Amp Records but at the label's Christmas benefit show for a women's shelter, negotiations broke down amid what Hell admits was too much alcohol.  Allegations of drunkenness, wanton mistletoe kissing, and a pulled fire alarm in the local club meant Radar Hate's reputation as trouble would ripple far beyond that night, and getting gigs in Hamilton was a little harder.  It wasn't long before the band simply packed it in, and Hell would realize that issues in the band were perhaps more serious with his move to Oshawa to follow a girlfriend.
I still get a lot of questions about that night, grimaces Hell.  It led toward a lot of drama and had us pegged as being women haters because of the nature of the benefit show.
The Mental Health program out here is better than any of the other place I've lived, reasons Hell.  When I was living in Hamilton, I was shunned because of my mental illness.  People never really understood it, but out here people seem to have a better grasp of me.  I don't blame Hamilton for not understanding me.  The truth is I am just more honest about my disability.
With the move, a new perspective and some more understanding, Hell struck up a solo career channeling his energies into two CDs worth of acoustic music that bridges folk and punk, coming off as a strange crossing between Mike Ness, Tom Waits and Leonard Cohen but with one serious edge.  This week,  Doug Hell returns to his old stomping grounds with a live showcase for his most recent CD, When A Madman Loves A Woman.
I have found my voice on this CD, offers Hell.   I happen to think my sound, although acoustic, is still pretty raw and punky.  I think it's the honesty and purity of acoustic music.  It's just you and your guitar.  There is no one else to hide behind.
These days, Hell is very forthcoming and perhaps easier to get along with.  Although new fans might find his 6 foot 4 inch, 240 pound frame a tad intimidating at first he's more like a larger, perhaps gruffer, Canadian version of Daniel Johnson.  Dealing with his own demons, Hell is now reaching out to new audiences and while Hamilton area performances remain a rarity, Hell is working on things to make many things change for the better.
It's been tough getting shows in the Hamilton area since the Radar Hate incident, but Burlington is a city I have always been quite fond of, continues Hell.  I love the Red Rooster but most importantly, my parents are going to come out to the show because they live in Hamilton.  That will be nice.
I live with mental illness, he adds. It's something I tried to hide most of my life by being reclusive for the most part.  Any interaction I had with people was usually pretty negative.  I was not an easy person to get along with.  I guess you could say I am offering some apologies on this album, or at least trying to offer an explanation as to why I am the way I am. I don't hide behind my mental illness, but sometimes people are caught in the crossfire.