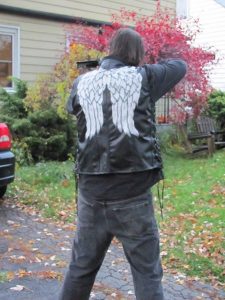 I quit Green Jello.  I actually quit about a month ago, but I can't think of many other things to write about.  Playing in Green Jello was a dream come true.  I had a blast at the shows I played.  Before and after, not so much.  Man, I've changed.  One can say I've just gotten old, but I don't feel old.  Playing shows is great if you're only doing it once a month or so.  I used to love looking forward to playing a show, not dread it.
Rant end.
*   *   *
So I wrote my very first feature script.  It was easy.  It came naturally.  It has action, comedy, drama, twists, and some surreal touches a la Doug Hell.  I had a great time doing it.  The first pass took me about four days.  But it's done.  I'm just going through it and making some tweaks here and there.  You should also know, this is an actual movie, and not a Doug Hell vanity project.  I'm not fooling myself here.  I know I'm probably the only one entertained by my own Doug Hell movies.
*   *   *
I finally received my Helicaster.  It's pretty awesome being sponsored and having a guitar made just for you, only one of its kind.  I have a few projects coming up.  There will be a soundtrack for my movie that I will be working on with Queen Hell (who has perfect pitch).  I'm long, long, overdue for a new Doug Hell album.  Lastly, I need to fire up my new guitar for a sugarpunk project.  Three chords and melodies armed with knives.  Let there be rock.
*   *   *
Speaking of music.  I'm going to upload every Tom, Dick, and Harry, I've ever recorded and put it on this site.  I know that means a lot coming from the guy who hasn't done half the things he said he was going to do.
*   *   *
I'm sorry.  I'm so, so, sorry.