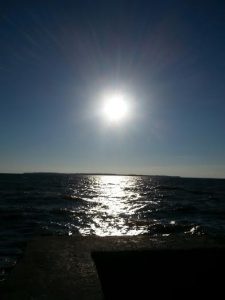 You guys are great.  I left Facebook in March.  Completely.  I didn't announce it.  I just went poof.  Usually upon leaving Facebook I try to hold a press conference, in which I am the only attendee.  But I make a big kerfuffle about leaving.  I think the longest I ever managed to stay gone for, was about three days.  Then I would be back as though nothing happened.
Anyway, I left for good in March.  I was off like a prom dress.  No Doug Hell press conference.  No going away pity party.  Just gorgeous personal exile.  Hmmm.  That doesn't actually make a lot of sense, but I think you get the point.
So I guess me following through with something I say I am going to do, is nothing short of a miracle.  Because my departure from Facebook left a lot of people thinking I died.
I'm not dead.  I'm just daring the danger of Cabal, among other things.  I'm living quietly, and uneventfully in a picturesque town up north, beating up attacky dogs and creating art.  This is heaven.  Count it.  I am going to post the songs that come on my playlist as I write.
The mosquitoes up here are so bad.  I can't reiterate this enough.  I hate them so much.  I don't even like saying "hate" anymore, but I have nothing but contempt for these little creeps.  I have been using the burning spoon method to deal with the bites, and it's been working great.  Do you actually care?  Well, just in case you do, run a spoon under hot water until it gets good and hot and then put it on your bite.  There will be a bit of RAWWWR upon contact but it's fleeting.  It really works though.  My hot water bill is through the roof though….
So last night I had a dream that Hulk Hogan was a serial killer.  I know how ridiculous this sounds.  But he wasn't decked out in red and yellow, luring victims into a ring in the middle of nowhere and dropping the leg on them.  He wasn't in character.  He wasn't NWO Hollywood Hogan either.  He was a cold and calculating menace, and for some reason we were best friends.  I wasn't very comfortable with the savage murders, but he was my friend.  I don't judge my friends.
In this same dream, one of my best friends, Gav Volterman, became the Sgt-At-Arms on Parliament Hill.  This is particularly hilarious because Gav is a gaming slacker, and a bit of a pseudo-intellect.  In my dream he was furious with his new job and had to wear this funny outfit that kinda looks like a Boy Scouts Of America uniform.  Like there was a sash and a funny hat.  He would show up for work with a pissed off look on his face, looking comical in his funny outfit.
At one point we were playing Mortal Kombat, which was always a pointless endeavour.  You cannot beat Gav at Mortal Kombat.  Not one round.  It doesn't matter what kinda handicap he gives you.  You're toast.  You can use a ridiculously overpowered character and he could use Sonya.  You're going down.
Anyway, I let him in on the Hulkster's dealings and Gav went postal.  Apparently it was a part of his new job description to vanquish evil from the world.
Gav arranged a wrestling match between and himself, and Hulk Hogan.  Gav would be the heel and Hogan would be the babyface.  The match took place in Kanata where that horrible hockey team plays.  It was a full house.  The match took place and Gav picked up the victory.  He shot Hogan in face while the referee was distracted by a run-in from Leaping Lanny Poffo, and Barry-O.
Hogan's corpse argued that Gav shot him with a foreign object.  The referee argued back that he didn't see it, thus it was a clean win.
The audience wasn't all too pleased though.  They all turned into jellyfish people and floated toward the ring to sting the crap out of Gav.
EDITOR'S NOTE (DOUG HELL ON A LATER DATE):  THE AFOREMENTIONED GAV VOLTERMAN BROUGHT IT TO MY ATTENTION THAT IT'S PSEUDO-INTELLECTUAL.  FIGURES IT WOULD BE HIM TO EXPOSE ME TOO CONSIDERING THE REST OF MY READERS ARE A BUNCH OF ILLITERATE CUNTS WITH PISS POOR GRAMMATICAL SKILLS.  FUCK YOU ALL.  IDIOTS.