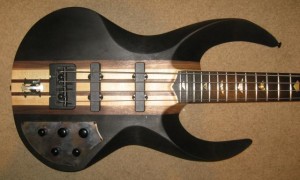 No more sissybox.  I am back on the bass.  As horrible as a guitar player I am, I've yet to find someone who can create that beautiful noise on guitar that is ever so important.  That's not true, actually.  Sparkles from Radar Hate is the best.  That kid can create a racket on the guitar that would make Lee Ranaldo, Thurston Moore, and J Mascis extremely jealous.
Nonetheless, I am fortuneful.  I am in possession of the greatest sounding bass I've ever heard.  It's the Morton Extortionist.
CONSTRUCTION:

7 piece laminate neck through design

WOOD:

WINGS:

Alder

NECK/CORE

Maple and Walnut

MISC:

Ebony fret board and head stock veneer

HARDWARE"

Hot-Rod 2 way truss rod

Carvin tuners

BRIDGE:

Carvin bridge, string through body or through bridge

PICKUPS:

Carvin 'Jazz' style actives

ELECTRONICS:

Carvin active/passive electronics package, either fully passive with normal tone controls or fully active with low,mid and treble tone controls.

Both on master volume and master pan controls.

MISC:

304-L stainless steel control cover

Separate 9 volt battery housing.

Black strp buttons

SCALE: 34″ scale

FRET BOARD RADIUS: 16″

NUMBER OF FRETS: 24

INLAYS: Abalam and gold Mother of Pearl on fret board, Mother of Pearl side position markers

Black and gold Mother of pearl emblem

LENGTH: 47″

WIDTH: 13.5″
WEIGHT: 9.5 lbs
Never in my life have I championed a bass with active pickups, but this thing just sounds amazing.  It's sound is somewhere between a Warwick and a Rickenbacker 4001.  I am in Heaven.  I have found my tone.  I could play this fella through any bass amp and it would sound amazing.  Thank you, Morton Guitars.  It's an honour to be a sponsored player.   Now please get your site professionally done so I don't look so bad….