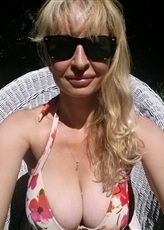 Chilly day today.  Love it.  I got to wear a sweater that I got for Christmas.
I've been watching a lot of movies.  It's just something I've recently gotten into.  I'm really geeking out to them.  I like to take everything in.  The characters.  The direction.  The soundtrack.  I pay attention to all of it.  But when it's really good, I don't have to actually make an effort to pay attention.  It seizes me.  I'm going to talk about a few of my favourite movies, and I know I'll likely get shot for my preferences.  Or maybe I won't.  Just as long as you all understand that I still rule regardless.
Whale Music
This is my favourite movie of all time.  It stars Maury Chaykin and Paul Gross.  It's based on a book of the same title, written by Paul Quarrington.   I'm not sure what I enjoyed more.  There were some things in the book that I guess would have just been too silly to try and incorporate it into the movie.  More on that later.
Maury Chaykin stars as Desmond Howl, a wealth musical prodigy and former rock star who has become extremely reclusive, and fairly demented after his brother's death.  He lives alone in a derelict mansion.  He is obese and spends almost all of his time in his housecoat.  He has a state of art recording studio in his basement, where he is recording his opus, Whale Music, a musical composition for the whales.
Ok you guys have to forgive me for this, but I have suddenly lost interest.  Onto other things.  I know.  How about my Top 10 Rush songs?  I need to apologize to the purists out there by my favourite era for Rush was the 80s.  .
 Distant Early Warning
Marathon
The Enemy Within
Driven
Time Stand Still
Red Sector A
Body Electric
Subdivisions
Dreamline
Roll The Bones
Christ I really had to think of one more.  Now I'm going to take a crack at my top 10 favourite movies.
 Whale Music
Lady In The Water
Hesher
Best Of The Best
City Of Industry
I couldn't even get to number 6.  Truth is I can't think very well right now.

Ok I'll tell you what.  I'll start a new page to review movies and such.  That's as good as it's going to get though.  Really.

Today's Playlist

Faith No More – From Out Of Nowhere

Rod Stewart – Young Turks

The Creeps – Wait A Minute

Public Image Ltd – Chant

Dwight Yoakam – Ain't That Lonely Yet

Jim Croce – Box #10

Linda Ronstadt – Long Long Time

Posted by: Doug Hell on August 26, 2015 previous - Next