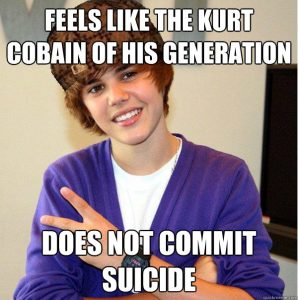 Give it up, Tom Grant.  Just  give it up already.  Congratulations on being sucked into Courtney Love's hemisphere of bullshit.  I guess you got lucky, huh?  You got the call.  You've enjoyed about 20 years of quasi-celebrity status, thanks to the death of a rock icon.  Now you have a movie.
To be clear, I think that Courtney Love played a huge part in Kurt's death.  She grated on him.  She drove him nuts.  She was Courtney Love.  She could make anyone want to swallow a shotgun.  But she didn't hire someone to kill him.  Kurt offed himself.
People just believe anything they see or read.   There are no reliable sources.  Don't just blindly believe in anything anyone says.  Christ, Kurt Cobain swore he don't have a gun!  We all know that's a big fat lie.  And other people will try to tell you that jet fuel can't make heat hot enough to melt steel girders.
AUGHHHHHHHHHHHHHHHHHHHHHHHHHHHHHHHHHHHHHHHHH!!!!!
Today's Playlist
Take That – Patience
Fucked Up – Queen Of Hearts
Faith No More – War Pigs
Frank Black And The Catholics – 21 Reasons
One comment so far:
Posted by: Doug Hell on August 30, 2015 previous - Next