Hey guys.
I head into pre-production tomorrow.  I'm hanging up my acoustic guitar for good.  I'm a dreadful singer.  Believe it or not I sound pretty badass singing punk rock though.  I am dusting off a couple Radar Hate numbers.  The Doug Hell song you've come to know and love as Voices wasn't always that weepy.  When Radar Hate did it, it was desperate, manic, and downright hateful.  I was never happy with the way Negator sang it.  I'm not sure I was happy with much of anything that Negator actually sang but his presence in the band as a player and friend was very welcome and refreshing.  So Voices in it's original form will be making an appearance, as well as Megan Hangs Out, Away, Gremlinface, Brand New Bike.  There are some new ones as well as a couple Hanging Girl rejects.  There will also be a covers of Killer Dwarfs and Husker Du songs.
This album is going to be my best work to date.  It will be simple, but very intense, hooky, and downright brooding.  I listen to the demos regularly and often, with the confidence of knowing I'm holding the winning cards.
That's for coming out guys.  I'll keep you posted.
*     *     *
Hanging Girl was that band.  We were together for the underside of a year before imploding.  It was ego and industry meddling that broke us up.  Hanging Girl was a very special band.  I sift through the videos on Youtube.  There are thousands of views.  They don't seem to be slowing down.  I have spoken to people who follow the band who didn't even know I was a part of it.  It had gotten that big.
It's a sad shame but I am excited about my musical future.  I have complete creative control and autonomy.  I'm working with people who not only understand this is my rodeo, but are honoured to be a part of it.  I'm very thankful for that.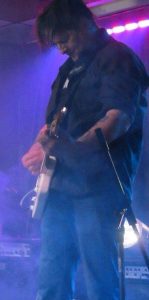 Posted by: Doug Hell on June 11, 2017 previous - Next