Broken love.  I don't want it.  It makes my skin crawl.  None of the shit is worthwhile.  I crave the cold.  It's a healthy and righteous cold.
I close my eyes, and just think for a while.
I long for your touch.  I always knew.  I just always knew.  The northern cold shows it's true soul.  It removes the shelter of sinners and fornicators.
I was cursed to be born.  Beautiful.  My beauty is my cruse.  It makes me a target.  If I open my soul then nothing and no one is safe.  You can't hide.
I open my eyes and you disappear.  One day I will see you again.  You took my worst hours and burned them to the ground, and replaced them with rapture. For that alone I will love you until I die.
Now the moon whispers to me.  I won't fall short.  I will be strong and purposeful.  I know love now.  I accept these feelings, and I don't dishonour them.  I smile and the night explodes with laughter.
For now I can only speculate, maybe dream.  I close my eyes and hold you tight once again.  I breathe in your sweet smell that isn't there, but in my head, but is very real.
Crazy boy meets crazy girl.
Let it all begin.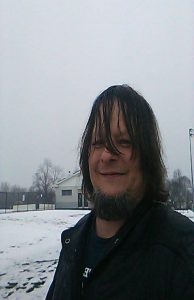 Posted by: Doug Hell on June 28, 2017 previous - Next