In keeping with the laws of drama, I feel the need to make this announcement.  Ladies and gentlemen, it's none of my business who my alcoholic ex-girlfriend is fucking right now or who she has fucked.  That's why she is my ex.  The ex means she is not with me anymore therefore she can fuck anyone she wants.  I don't care if it's someone I know.  I don't care if it's someone I don't like.  Unless your motive behind telling me this is to upset me.  It doesn't.  I fall in and out of love very easily.  But right now I am alone and single for the first time of my life and I'm loving it.  I'm not just saying that.  I do.  I get up when I want.  I go to bed when I want.  I eat what I want.  I go where I want.  I blog when I want.  I can play guitar all day.  I can have coffee with my friends.  You getting the point?  Good!
*     *     *
I went on my first Plenty Of Fish date yesterday.  What a disaster.  This woman looked great in pictures.  She didn't in person though.  We were supposed to meet for ice cream.  Then we she showed up she was so grotesque looking that I suddenly couldn't bring myself to eat ANYTHING.
I spent the next hour walking beside her around Bayfront Park as she waddled along eating Ice Cream.  It was revolting.  Mercifully we didn't hang out too long and I came home.  Being the thoughtful guy I am, I sent her a text this morning telling her it was nice meeting her and I hoped we could at least be friends.  She messages me back and tells me we can be friends but she doesn't see a future in dating….
*     *     *
Plenty Of Fish is a hoot.  I think I'm going to stay on it for life and just meet new people.  I know I won't be able to stay with the same person for life.  I know it.  Why try to fool anyone or myself any more.  My longest relationship was with Candice.  But the only woman I would ever consider going back to was Jacyntha.  I recently made overtures to her and she basically told me to go kick stones.
I like the POF option though because I know I am going to get a lot of great songs and stories out of it.
Thanks for tuning in guys.  It's been a day…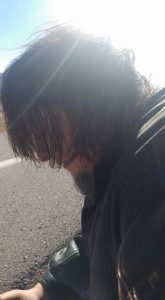 2 Comments so far:
Posted by: Doug Hell on August 10, 2017 previous - Next