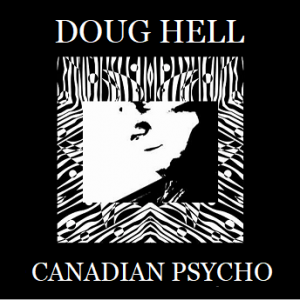 This is Canadian Psycho.  The album was actually finished last year.  I did it all in a night and you can tell.  I don't mean by the shitty production.  I adore shitty production.  The album has an intensity to it that can only be attributed to the consistency of a mood.  I'm not going to do a track listing.  You can click on the image and it will take you to bandcamp.  The track listing is there.  Absent from this version is a cover of Lifetime by Killer Dwarfs and a cover of Sorry Somehow by Husker Du.  If you want them too I can send them to you.  I didn't post them on bandcamp because I'm not going to profit from the art of others.
I can say without arrogance this is a great album.  Everything I do is great.  I say that too without arrogance.  I may fuck up in most other aspects of my life but if there is one thing I am good at, it's writing lofi garage pop anthems.
I hope you enjoy it.
Thanks friends.
DH